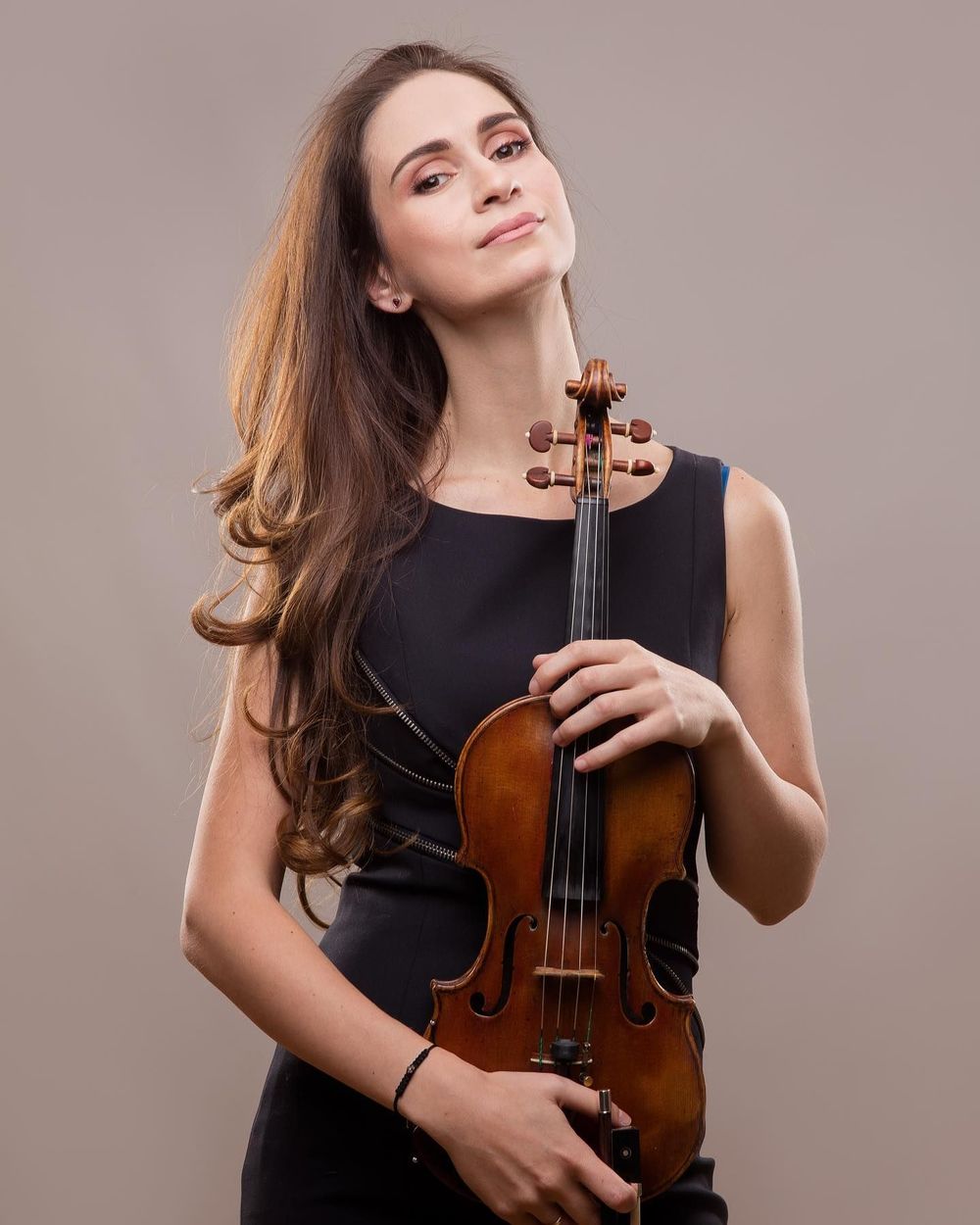 Anush Nikoghosyan
Violinist
Feb 20 1989
Young Armenian violinist Anush Nikogosyan was born in Yerevan. Aged five she got her first violin lessons with Distinguished Teacher of Armenia Petros Haykazyan and further on studied at the Yerevan Komitas State Conservatory. For several years she has been taught by the principal conductor of the Armenian National Philharmonic Orchestra Eduard Topchjan. Anush has studied at Hochschule fur Musik und Theater Munchen (class of Prof. Christoph Poppen). Since 2013, Anush studied in the same conservatory with famous violinist, Prof.Julia Fischer.

She graduated from the conservatory with Concert Diploma in 201a7. From 2001-05 she was the scholarship holder of Vladimir Spivakov International Fund. Anush participated in the various international festivals held in Czech Republic, the Netherlands (Middelburg), Lithuania (Kaunas) and Russia (Moscow). As a soloist she has appeared with Deutsche Radio Philharmonie, the Armenian Philharmonic Orchestra, the Kaerntner Sinfonieorchester, Kurpfaelzisches kammerorchester Mannheim, the Moravian Philharmonic Orchestra, the Kaunas Chamber Orchestra, the Armenian Chamber Players, Ural Philharmonic Orchestra, Lithuanian National Philharmonic Orchestra and other orchestras under the baton of Eduard Topchjan, Dmitri Liss, Leos Svarovsky, Pavel Berman, Alexander Treger, Emmanuel Siffert, Markus Bosch, Ernest Hoetzl and other conductors.

Anush won prizes at numerous international violin competitions, most important from them: in 2010 she became the 1st prize winner of the "International Kaerntner Sparkasse Woerthersee" competition (Austria), after which she got many invitations, in some of the most prominent concert halls and with renowned orchestras, among them in July 2011, Anush was invited to feature at the well known "Pacific Music Festival Sapporo" (Japan) as a soloist under famous Maestro Fabio Luisi. In 2014 she was invited to the Rimini Meeting festival, the Festival della Nazioni in Citta di Castello, Ravello Music Festival (Italy), in October 2014 – the Bruckner Festival Linz (Austria), the Yerevan International Music Festival.

She played in concert halls: "Alte Oper" Frankfurt, Opera de Nice, the Brucknerhaus Linz, the Konzerthaus Klagenfurt, Warsaw National Philharmonic Hall, the Aram Khachaturian Concert Hall Yerevan, the BASF Ludwigshafen Konzerthaus and others. In May 2015, she debuted at Walt Disney Concert Hall in Los Angeles (USA). In July 2016 she debuted at "The stars of the white nights" festival in St.Petersburg, playing at Mariinsky Theatre's Concert Hall. As a chamber musician she regularly takes part in various festivals.

She has performed chamber music repertoire with such musicians as Julia Fischer, Kim Kashkashian, Leif Ove Andsnes, Nils Monkemeyer, Sergei Krylov, Pavel Vernikov, Alexander Chaushian, Mario Brunello, Francois-Frederic Guy, Radovan Vlatkovic, Benjamin Nyffeneger.

Anush Nikogosyan toured throughout Armenia, Lithuania, Russia, England, U.A.E., France, Czech Republic, Germany, USA, Poland, Slovakia and Austria. She often performs works by contemporary composers, among them: Mansurian, Yerkanian, Dott, Penderecki, Zakaryan, Israelyan, Chaushian, Chetchyan and others. Since 2013 Anush Nikogosyan is playing Jean-Baptiste Guadagnini violin (Milan, 1753).