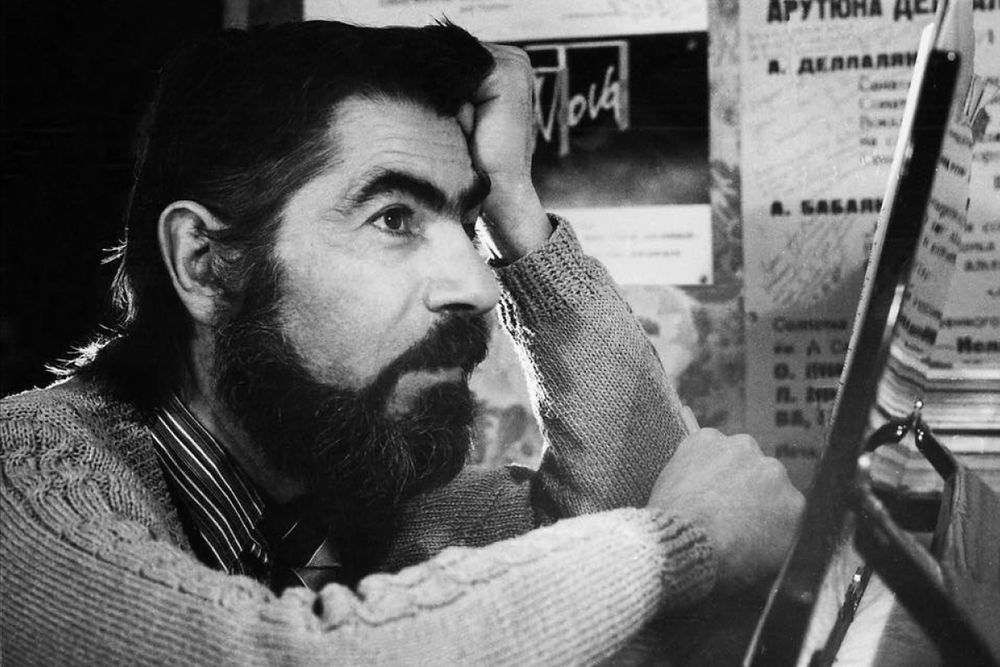 Harutiun Dellalian
Composer
Aug 08 1937 Apr 23 1990
Harutiun Dellalian belongs to a generation of Armenian composers that appeared at the end of the 1970s, spreading a new spirit and influence upon the nation's music. Harutiun Dellalian was meant to address the world and make it hear his unique voice.

Dellalian's artistic development was far from easy and effortless. As fate willed, he started to study music professionally rather late. It was only due to his profound talent that he found his way through art, as well as the realm of preferred ideas, themes, and used it masterfully as a means of expression.
He was born in Athens (Greece) on July 10, 1937, where he received his primary education at the local Armenian school. At the age of 10, he repatriated to Armenia with his parents. A very difficult childhood and adolescence did not provide the opportunity or the resources for receiving a corresponding education.

At the age of 31 (1968), he finally enrolled in R. Melikyan Music College and studied composition under Edward Mirzoyan. At the age of 35 (1972), he enrolled in Komitas State Conservatory in Yerevan, once again under E. Mirzoyan. In 1979, he became a member of the Union of Composers in Armenia.
His life as a composer was brief - a mere 15 years. However, during this short period he succeeded in creating a number of enduring compositions.

He is the author of about 25 works: among them three symphonies, "Death" Symphonic Poem, "A Monument to the Martyrs" Cantata–Requiem, "The Sunk Sun" dramatic Cantata, "Ecloga" for flute and chamber orchestra, etc. Among chamber pieces, the following should be mentioned: "Meditation" for clarinet and piano, "Dedication to Komitas" Sonata for piano, sonatas for violin and piano, cello and piano, "Medium" Sonata for bassoon, "Triumphal Requiem" for organ, "The Onset of Twilight" Song Cycle, and other pieces. "Lilit" ballet was left unfinished...

His works have been performed in USA, Canada, Japan, England, France, Spain, Portugal, Italy, Germany & Russia.
While pondering over Dellalian's music, it becomes obvious that there is the artist full of bright individuality behind it. Dellalian was stirred by eternal philosophic themes; he was congenial with utterly sincere, lyrical-rational, and a confessional style of expressiveness. The subject-matter of a number of his works is striking proof of the characteristics mentioned above. In symphonic pieces, Dellalian's specific approach to the orchestral timbre is also displayed.

In the sphere of chamber music, Dellalian constantly strived for the application of innovative methods, although he had never endeavored to use them as an end in itself. Particularly, he was attracted by the disclosure of unapplied, abstract possibilities of classical traditional instruments. This gave birth to original works, written for wooden wind instruments, in particular.
Harutiun Dellalian's music leads the listener on a continual journey of discovery, and places Dellalian himself as the genuine bearer to the history, culture, sufferings and expectations of an ancient people.