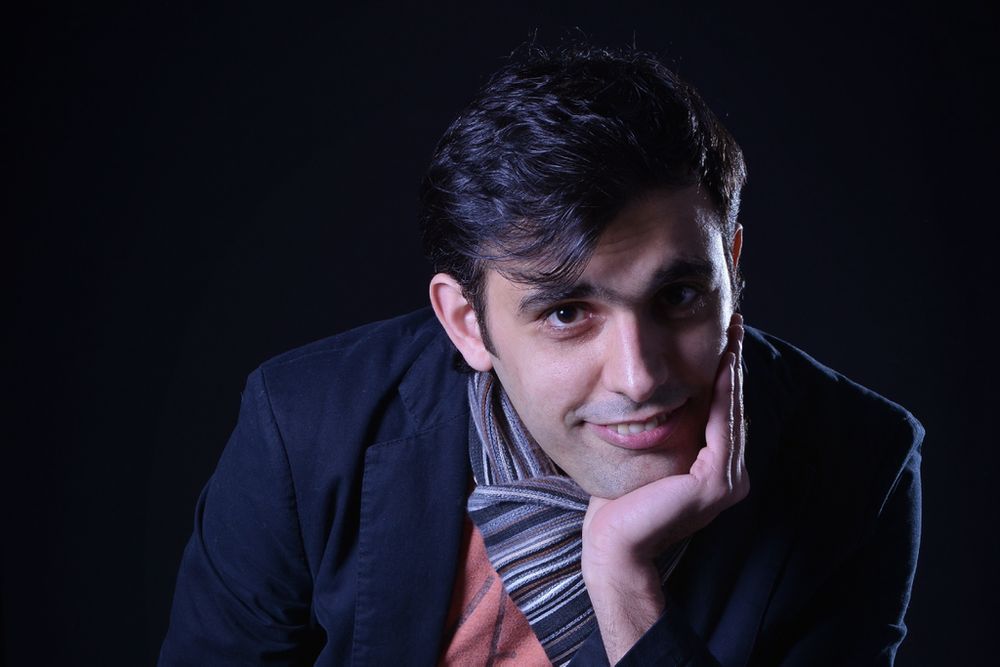 Vahram Sargsyan
Composer
May 28 1981
Vahram Sarkissian (Sargsyan) is an Armenian Canadian composer, conductor and experimental vocalist living in Montreal, Canada. His chamber, choral and vocal works have been widely performed across Europe, Asia, and North America. His style represents a multicultural "palette" of sounds and creative ideas influenced by numerous traditions and practices spanning from V century Armenian medieval chants to previously unreported endogenous vocal extended techniques. As an experimental vocalist, he developed a distinct vocal identity with a rich assortment of techniques and several signature sound production methods.
Vahram Sarkissian studied Music Theory at the Yerevan P. Tchaikovsky Musical College. He obtained his graduate diplomas in composition with Ashot Zohrabyan and conducting with Tigran Hekekyan at the Komitas State Conservatory in Yerevan, where he also earned a postgraduate diploma in composition. He continued his education at Schulich School of Music, McGill University studying composition with Philippe Leroux.
Sarkissian's compositions have been performed in numerous festivals and concerts in Japan, Canada, USA as well as across almost the entire European continent. Performers of his music include BBC Singers (UK), Little Singers of Armenia, Ensemble Transmission (Canada), Armenian State Chamber Choir, Lark Choir (USA), Yerevan Chamber Choir, Est vocal ensemble (Japan), Meitar Ensemble (Israel), Junges Ensemble Dresden (Germany), Boston Choral Ensemble (USA), Alan Hovhaness String Orchestra (Armenia), Ensemble Oktoplus (Germany) and many others. His arrangement of a 5th-century Armenian chant Great Mystery is included in the Oxford University Press anthology World Carols for Choirs and has been recorded by BBC Singers. Sarkissian's work Hunting the Hunter was premiered under his own baton in 2012 at Carnegie Hall.
Commissioners of Sarkissian's music is Norddeutscher Rundfunk (Germany), CBC Radio (Canada), Lark Musical Society, Boston Choral Ensemble (USA), AGBU Foundation (USA), Oxford University Press (UK) The Esoterics Choir (USA), just to mention a few.
As a performer Sarkissian has appeared in different festivals and concerts in Montréal, Barcelona, New York, Yerevan, London, Seattle, Los Angeles and elsewhere. He frequently gives lectures and leads workshops about extended vocal techniques and vocal improvisation. Most recently he lectured at the World Symposium on Choral Music (Barcelona, 2017), ACDA East Conference (Pittsburgh, 2018), Europa Cantat Festival (Tallinn, 2018) and elsewhere. He is a founding member of Phth – a 7 part experimental vocal ensemble that premieres and advocates new music by Canadian composers as well as introduces other contemporary compositions to the Canadian audience.
Sarkissian's honors include the winner award in the Third BCE Commission Competition (Boston, USA 2010 for Tribulationes), the winner award in the POLYPHONOS 2017 Commission Competition (Seattle, USA 2016) 1st prize in the International Contest for New Choral Compositions (Petrinja, Croatia 2009 for Anegh Bnutiun); the third prize in the Godfrey Ridout Awards from the Socan Foundation (Canada 2012, for Tribulationes); an award from the World Armenian Congress "for his creative achievements" (Yerevan, Armenia 2009, for Mythis); an award at the European Seminar for Young Composers (Aosta, Italy 2008, for Laudate Dominum); an award in Choral Composition Competition (Yerevan, Armenia 2006, for Tantum ergo); Graduate Excellence Fellowship from McGill University (Canada, 2013); AGBU Performing Arts Fellowship (USA, 2012) and Calouste Gulbenkian Higher Education Fellowship (Armenia, 2006).
Vahram Sarkissian is a member of the Composers Union of Armenia and The Canadian League of Composers. He served as a music consultant for the European Choral Association (2010-2012).
He is also active as a conductor. He was the founder and conductor of Armenian Chamber Voices: a 16-member mixed vocal ensemble noticeably consisting of young composers and musicologists, which was advocating music of the XX century in Armenia. He has also organized and occasionally led several vocals and instrumental ensembles in Armenia, Canada, and the USA.