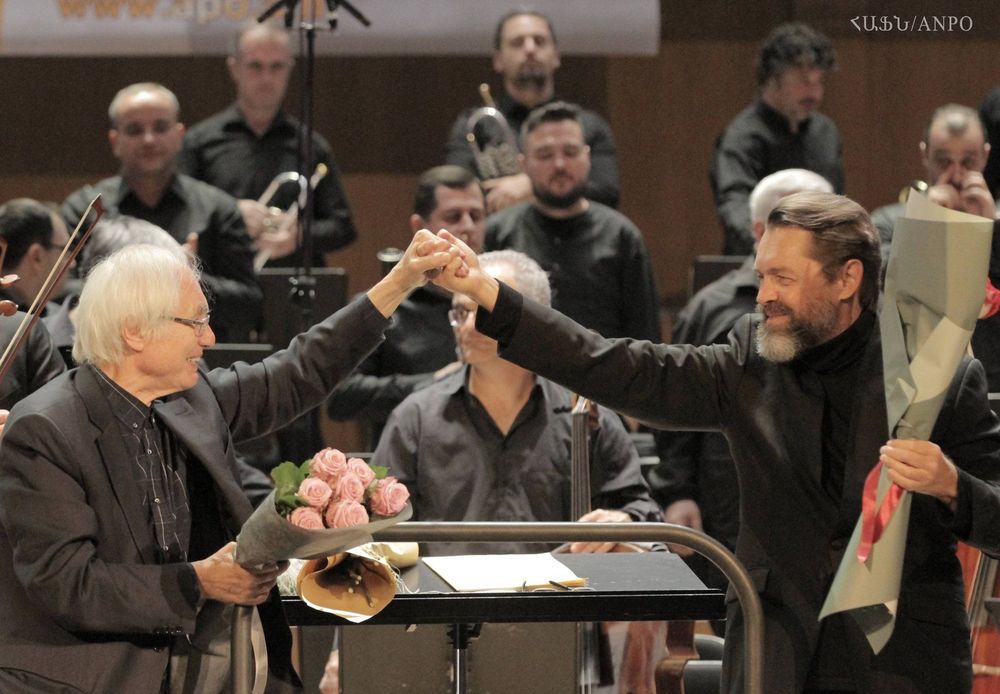 There is no other's grief. It's near your neighbor today, it will enter your house tomorrow without knocking on the door: Andrey Boreyko
Published: Oct 13 2020, 15:01
Author: ANM Media
Famous conductor Andrey Boreyko commented on the situation in Artsakh and sends his message to the world. (Text is provided by Armenian National Philharmonic Orchestra).
"Dear friends, dear musicians of the National Philharmonic Orchestra of Armenia.
The Directorate of the Armenian National Philharmonic Orchestra asked me to comment on the armed conflict between the armed forces of Azerbaijan and the Nagorno-Karabakh Republic that resumed last week. Unfortunately, everything shows that this is already a real war.
From 1979 to 1981 I had to serve in the army. I know what an assault rifle is, I know what mortar shots, the roar of tank engines and extreme situations during exercises are. But fortunately, I never knew what war was.
In 1979, a limited contingent of Soviet troops entered Afghanistan. I remember very well how a group of young 18-year-old soldiers left our unit, flew away, left there, to distant and foreign Afghanistan. They died there for other people's interests, for someone else's land. Only a few people returned. I will never forget their stories.
War is a terrible devilish instrument that not only deprives us of the future but also remains an unhealed wound in our history. A wound irrigated with bitter tears of wives, sisters, mothers.
I am a pacifist. With all my heart and soul, I am opposed to a person taking up arms against another person. We are all brothers and sisters on this planet. There should not and can not be any grounds or reasons that would justify the right to kill.
I was and will be with those who are suffering today, who bury their parents and children, who give their lives for the sake of a wonderful peaceful future of their people, their country.
But I am against those who try to warm their hands by someone else's fire in the name of their vague interests, and against those who prefer to remain silent, sit in a quiet place and behave like that notorious ostrich who hides its head in the sand so as not to see anything.
There is no other people's grief. Today it is with your neighbor, tomorrow it will enter without knocking at your door!
As you know, a bad peace is better than a good war. This well-known saying clearly defines my personal position.
Not a single war has ever helped to sort out painful problems and resolve any conflict, but the search for a solution and a compromise is necessary and inevitable. This should have been started as early as yesterday, the day before yesterday before heavy weapons started talking instead of diplomats. Yes, a compromise will probably never fully satisfy both sides of the conflict, but war is not an alternative.
War is always injustice, it is always destruction, it is always blood, these are children without parents, these are parents without children, this is scorched earth that cannot give birth to bread, bring fruits and flowers to people. And this war is beneficial only to those who, with its help, are trying to solve their problems, and more often than not those about which propaganda trumpets.
What God gave to all of us, no matter how you call this God, is the right to life. Happiness to live, breathe, love, create - this is the most valuable and precious thing we have!
Behind each of us is the past, each of us has a future. We are surrounded by family, loved ones, friends, colleagues. You must NOT allow people who are doing the same thing: growing bread, building houses, giving birth to children, teaching in schools, so that the same people in different countries look at each other as enemies.
And let it not be original, (sometimes it is better not to invent anything new), today I would like to call for the immediate start of a dialogue!
I am for the desire to be heard, and for the realization of the opportunity to speak. I understand that now when so many people have died when so many houses have been destroyed when so many tears have shed, it is probably difficult to start talking about dialogue, but it is necessary. Extremely urgent and absolutely necessary.
Several years ago I saw the Estonian-Georgian film "Tangerines". This film is one of my strongest film impressions in recent years. This is a wise parable that before taking up arms, and before directing this weapon at a person, you need to think hard about who is this person? Is a friend someone who calls himself a friend but disappears when he is needed most? And the enemy, blinded by hatred, and brainwashed by propaganda at some point, can't he find himself in a situation where life will make him start thinking for himself? And then the whole world starts to look different ...
This film cannot be directly projected onto what is happening today. But it makes you think. And thinking is actually much better than giving mindless orders.
I really hope, I really believe that this nightmare, this horror will end very soon. I am not a politician, I am a musician, I am a conductor, I want to make music with all the musicians of the world in any country, I want Music to unite them, not divide them. And it is possible !! Several years ago, I toured major European cities with the youth international orchestra I Culture. In this orchestra, Poles and Ukrainians, Armenians and Azerbaijanis, Georgians, Belarusians, Moldovans sat and performed the great music of the geniuses of mankind. Yes, you can, and more than that, you need it!
The last time I was in Armenia, I had the opportunity to conduct a wonderful cello concert by Tigran Mansuryan [ed. dedicated to the Armenian Genocide]. This concert is subtitled "Where is your brother, Abel?"
With this question, I would like to end this message, this call to all those who are involved in the current conflict, in this terrible war, to everyone on whom its immediate end depends.
People! So that you don't have to hear this question, or ask yourself - Stop before it's too late, don't kill, we are all members of the same family on this planet. "
Photo by Maria Vardanyan / ANPO