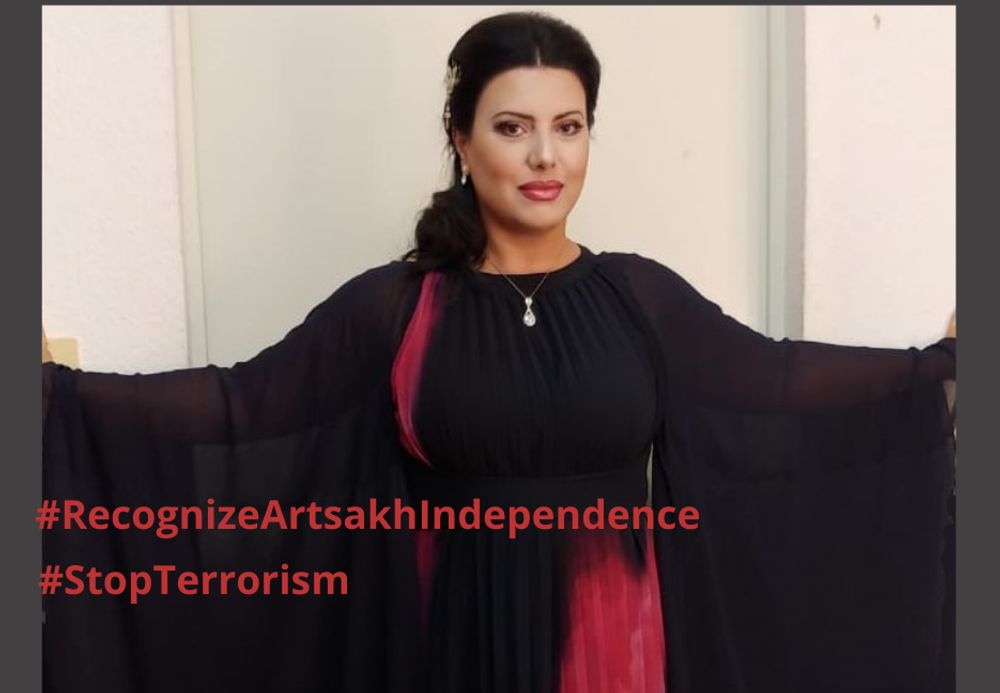 A small, ancient civilization abandoned by everyone is fiercely fighting for their right to live։ Hrachuhí Bassénz
Published: Oct 15 2020, 18:04
Author: ANM Media
World-famous Armenian opera singer Hrachuhí Bassénz, who lives in Germany, addressed a message to her foreign audience, friends and colleagues regarding the Armenian-Azerbaijani war (taken from the official Facebook page of the Armenian National Philharmonic Orchestra).

"My dear non-Armenian friends, colleagues, friends, Christians, non-Christians, to all those who are concerned, all those who are against wars, who are somehow involved, even those who are still silent ... I have been trying not to get involved in politics for a long time, cause I was pretty sure that the only policy of the artists is to spread art, love, peace, culture and I have no right to disturb you with my problems and the problems of my country, but ...it is no more just a question of me and my homeland, I can not keep silence anymore.

No way to be silent. Don't we solve many problems through art? Aren't we artists always calling for peace, love, calling to stop wars and terrorisms․ Shouldn't we speak up and stand by justice. Sorry, I'm a little bit disappointed, I'm disappointed by the silence, the neutral stance, while many around me actively stand up for the protection of animals, trees, and similar issues at every opportunity, filling our pages with their suchlike letters. I am disappointed, sorry…my nation fights all alone to the death and fights just for the right to survive, for the right to live, to live. Fights to protect our sacred land and 100 years later faces the threat of extinction again …

On September 26 it was my long-awaited premiere at Puccini's "Madama Butterfly" at Dresden Opera on the main stage of the Semperoper. It was a success. The audience and newspapers accepted it with great enthusiasm. It seemed to me I should be happy and enjoy, but alas, it was temporary. The next morning, a large-scale Turkish-Azerbaijani attack began along the entire Artsakh-Azerbaijani border. I am sure many of you are reading and you know it is a war in Armenia and this small ancient civilization abandoned by everyone is fiercely fighting for their right to live, for the salvation of the whole civilized world, cause the war is no more just between Artsakh and Azerbaijan, it is a Turkish plan to exterminate the Armenians. It is a plan that was successfully implemented in Western Armenia, killing more than 1.5 million Armenians, for which Turkey was not held accountable.

It is a war, a terrible war, for which all the responsibilities lie on the Turkish-Azerbaijani terrorists with their terrorist mercenaries. The situation is terrible ... We follow the shocking news day and night and the international community keeps silent. What to say? How can they remain silent when this terrorist country, which committed the first Genocide in world history against the first Christian nation, wanting to eliminate one of the oldest civilizations, the Armenians, resumes the same cruel aggression?

Silence is the same crime. Armenians are being massacred again and the world has taken a neutral position again. Where are the laws of democratic countries and the humanitarian position? Where are my friends who cherished words of love to me and to all the Armenians, where are those who admire my nation and me, where is their attitude and reaction? Where are you?

You are not there, you do not want to interfere ... but we are also fighting for you, because as the Prime Minister of our country stated, we are no "Deir Zor lost travelers" anymore and we will fight for the whole civilized world.... and in case of defeating us, the Turkish people will turn to you.

It is hard, very hard, both mentally and physically, and I must continue to sing, to go on stage and sing for the same society. my body on the stage and my soul and thoughts in the border and in my homeland ..And I will sing, yes I will and on October 11st and 24th because I had a phone conversation with the RA Ambassador to Germany Ashot Smbatyan and with my good friend, historian, the President of the Union of the Armenian Academics Azat Ordukhanyan and they urged me to sing: "You must sing, do not give up, find strength in yourself and sing, because we are a powerful nation, we are powerful, your voice must be heard in that way and fight like that".

My dear ones, don't be indifferent. Speak up and express your attitude towards solidarity"․

Hrachuhi Bassénz is a leading soloist of such prestigious opera houses as the Royal Opera House in London, Wiener Staatsoper, Strasbourg Opera House, Komische Oper Berlin, Semperoper Dresden and others.