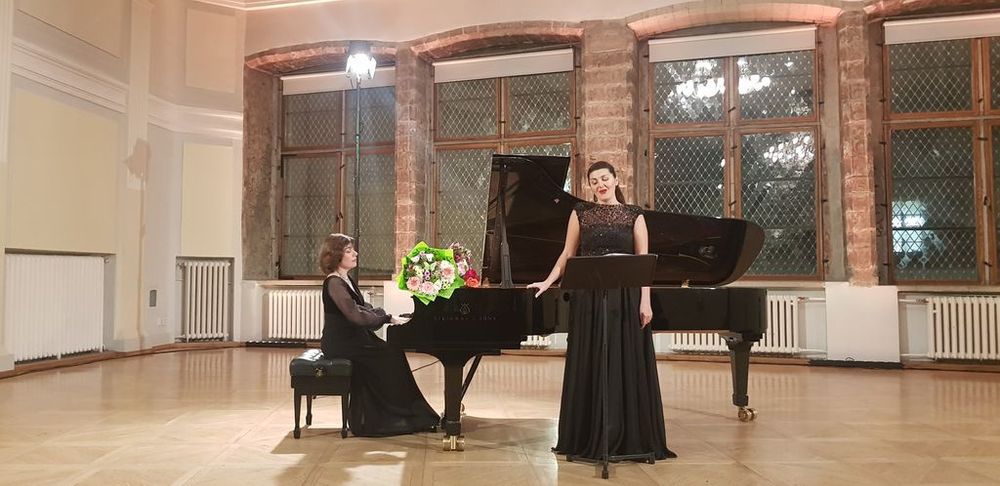 Concert dedicated to Avet Terteryan took place in Estonia
Published: Nov 28 2019, 08:37
Author: ANM Media
Concert dedicated to the 90th anniversary of the great Armenian composer Avet Terteryan took place in the House of the Blackheads, Tallinn, on November 25. The concert was organized by Embassy of Armenia to Lithuania, Latvia and Estonia.

The event was attended by high-ranking officials of the Estonian legislative and executive branches as well as other state agencies, ambassadors accredited in Estonia, members of the diplomatic corps, public and political figures and members of the Armenian community.

In his opening remarks, Ambassador Tigran Mkrtchyan said: "Today we meet again at a chamber music concert organized by our embassy to mark the 90th Anniversary of the great Armenian composer Avet Terterian.

It is truly hard to describe Terterian in a few words. He was someone who saw in his parents' Baku home Prokofiev when he was very young, and then when he was an accomplished composer Dmitri Shostakovich was very generous in pouring praise on him. Terterian, as any talented composer of any period, had several phases of development. Here during this concert, we will be presenting some of his romances, songs written in his early career along with other Armenian and Baltic works for piano and voice.

But definitely his symphonies are what made him more famous worldwide. He was a composer of avant-garde music, in which elements of national and spiritual melodies were merged. This is an exceptional combination featuring the complexity and uniqueness of Terterian' style. Rarely those elements are presented in one. Armenian national instruments, including duduk and zurna, are used in his symphonies. His cosmic music exceeds all space and does not recognize any limits. It leaves the individual alone with or along with God.

This year Armenians all around the world have been celebrating the 150th Anniversaries of great Armenian priest and composer Komitas as well as writer-poet Hovhannes Tumanyan. In Estonia, we did organize a very big concert together with Gurdjieff Ensemble in February and then in September in Arvo Part Center with the Estonian State Male Choir marking the 150th Anniversary of Komitas. Moreover next May we plan to have another landmark Komitas concert with the Estonian State Male Choir, which will perform the full concert version of the Armenian Liturgy of Komitas.As for Hovhannes Tumanyan, his stories have been translated into Estonian, but we will most probably have them published and presented next year here.

I believe that even these two great anniversaries should not overshadow Avet Terterian's Anniversary and this event tonight is aimed at making sure Terterian's important place in the Armenian culture. Therefore, we invited two great individuals from Armenia. Armine Grigoryan is the director of Aram Khachaturian Museum in Yerevan and a member of Khachaturian Trio. We plan to have another concert in February along with their Trio here in Tallinn. For the Yerevan Opera solo singer Siranush Gasparian this is the first concert in Estonia and I am proud that the Embassy is the initiator of our talented opera singer's debut here.

I would like to thank Ter Khosrov Stepanyan, the representative of the Armenian Apostolic Church in the Baltic countries for supporting the realization of today's concert. I would like to thank Razmik Ivanjan, the head of the Armenian-Estonian Society for standing by the Embassy in facilitating the organization of this beautiful event tonight".