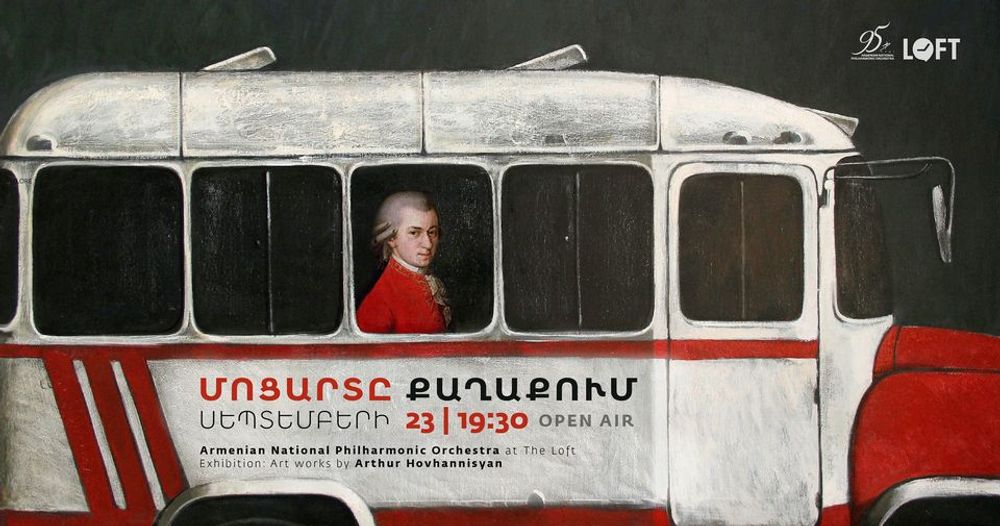 "Mozart in the city"
Published: Sep 22 2020, 10:31
Author: ANM Media
Advertisement
"Mozart in the city" cultural evening will take place on September 23, at 7:30 p.m. at LOFT center. According to the press office of the ANPO, the performance of the musicians of the National Philharmonic Orchestra will be accompanied by the exhibition of "Forms and reflections " urban painting series by Arthur Hovhannisyan.

During the evening, the musicians of the Armenian National Philharmonic Orchestra Narek Avagyan (flute), Aram Asatryan (violin), Mary Dolmazyan (viola), Vahe Danielyan (cello) will perform Mozart's quartets.

The participant of the concert, concertmaster of the first violin group of ANPO Aram Asatryan says in connection with the choice of the program: "Mozart is the embodiment of genius, if one asks me to imagine something perfect created by God, it will be Mozart with his creations, the life he lived, his personality. He is both academic and modern. Mozart is a must for the existence of the human soul, it is my music. And we have been waiting for the meeting with our audience for a long time, I am sure they will too. "

Flutist Narek Avagyan (concertmaster of the ANPO flute group) adds that Mozart is the only composer who has written quartets for flute and strings. The performance of that works makes the concert more unique, as musicians with such a staff gather only to play these quartets, only on very special occasions. The first live chamber concert after the state of emergency is a worthy occasion for these three masterpieces of elegant, genius, meaningful art to be performed. The meeting with the audience is very much expected.

"I am very happy that cultural life is gradually reviving. It is always a pleasure for me to work with LOFT, and it is an honor to work with the Armenian National Philharmonic Orchestra. I think that the event will have an interesting result, it will give positive emotions to all those present," painter Arthur Hovhannisyan says.




Advertisement