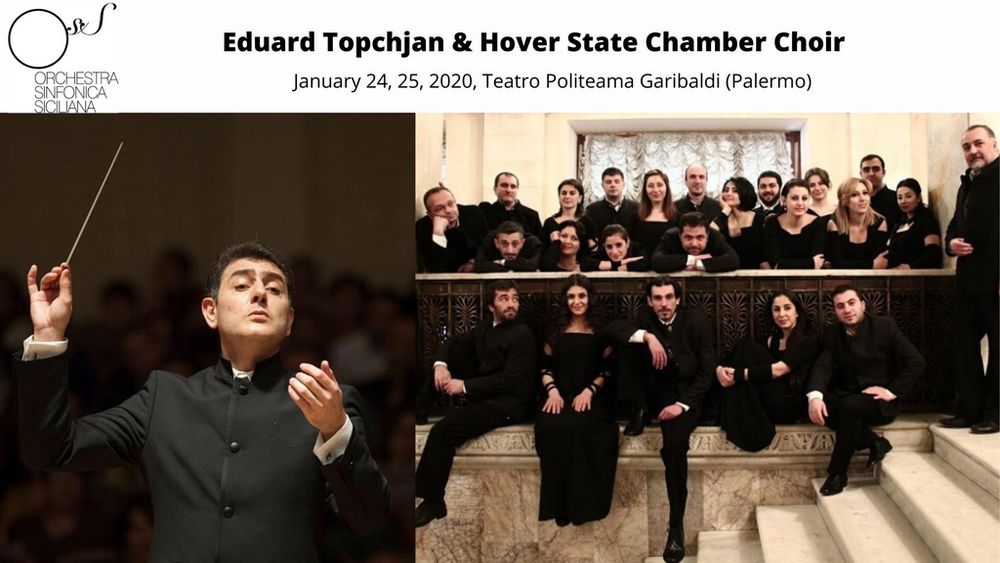 Eduard Topchjan and Hover Choir to perform in Sicily
Published: Jan 20 2020, 15:43
Author: ANM Media
Artistic Director and Principal Conductor of the Armenian National Philharmonic Orchestra Eduard Topchjan is again invited to perform with the Sicilian Symphony Orchestra. This time the Hover State Chamber Choir (founder and conductor: Sona Hovhannisyan) will also perform with Topchjan during the concert in Palermo, Sicily.

The concerts will take place on January 24 and 25 at the Politeama Garibaldi Theater of Palermo. The program will feature Aaron Copland's "Peace City" and Dmitry Shostakovich's "Babi Yar" Symphony No.13. Mikhail Rissov (bass), Salvatore Magatsu (trumpet), Maria Gracia d'Alcesio (English horn) also will participate in the concert.

"I am happy to perform with the Symphony Orchestra of Sicily again with such a beautiful and unique program. The program will feature Shostakovich's "Babi Yar" symphony, which is a very complex and influential piece of music and drama. I am happy to perform it with Hover Choir. Artistic Director of the Sicilian Symphony Orchestra Marcello Panni asked me to offer a choir that is fluent in Russian and sings with the right accent for performing "Babi Yar", and I chose Hover. This choir, led by Sona Hovhannisyan, has been my faithful partner for many years, and I highly appreciate their high professionalism. Looking forward to our rehearsal in Palermo."

Founder and Artistic Director of Hover Choir, Rector of Yerevan Komitas State Conservatory Sona Hovhannisyan adds: "The work with the choir is complete. We will present this work with the bass-baritones of the Hover Choir, which is staffed by students of the Conservatory's Vocal Chair and invited singers from the National Capella. We also have researched the background of the work. We are particularly pleased that this program will be implemented under the baton of E. Topchjan. He is one of our favorite conductors. I am looking forward to the joint rehearsals of Armenian and Italian musicians. "

Dmitri Shostakovich's Symphony No. 13, titled "Babi Yar," was completed on July 20, 1962, and first performed in Moscow in December of that year. The hour-long work requires a bass soloist, men's chorus, and large orchestra and is laid out in five movements, each a setting of a Yevgeny Yevtushenko poem. This unusual form gives rise to various descriptions: choral symphony, song cycle, giant cantata. The five earthily vernacular poems denounce Soviet life one aspect at a time: brutality, cynicism, deprivation, anxiety, corruption. Kirill Kondrashin conducted the 1962 premiere after Yevgeny Mravinsky had declined the assignment under pressure; Vitaly Gromadsky sang the solo part alongside the combined choruses of the RSFSR State Academy and Gnessin Institute and the Moscow Philharmonic.

In 1939, Copland wrote incidental music for the play Quiet City by Irwin Shaw. He later worked some of it into a ten-minute composition designed to be performed independently of the play. The piece premiered on January 28, 1941, by conductor Daniel Saidenberg and his Saidenberg Little Symphony in New York City.

Eduard Topchjan's first performance with the Sicily Symphony Orchestra took place on March 15 and 16, 2019, with Shostakovich's Symphony No. 6, Carl Philipp Emanuel Bach's Cello Concerto, and W.A. Mozart's Clarinet concerto (soloists: Ludovica Rana (cello) and Alessandro Carbonare (clarinet).