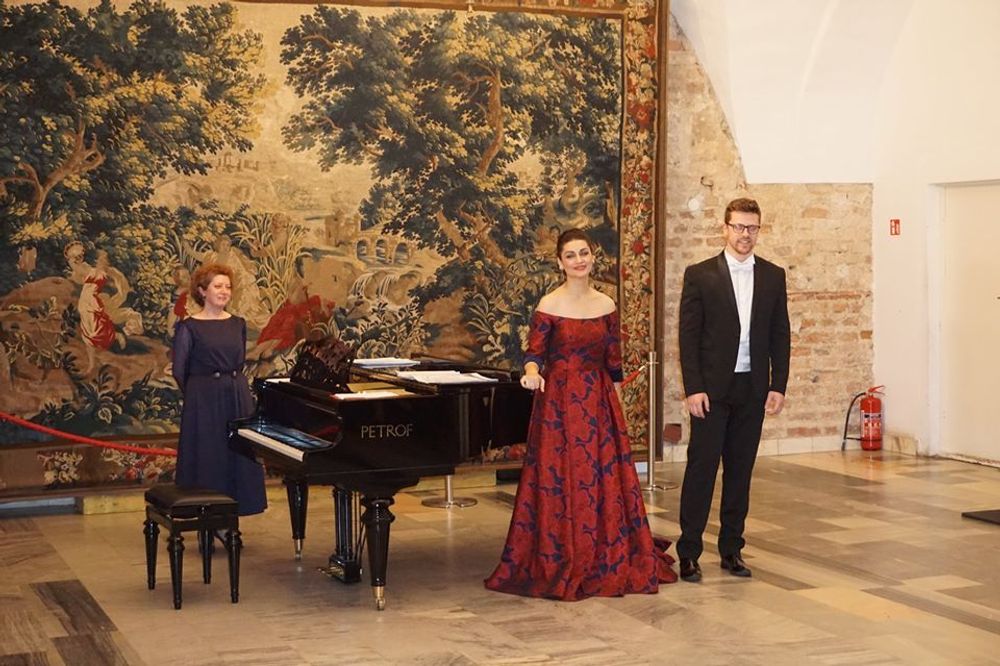 Concert in Vilnius, dedicated to 90th Anniversary of Avet Terterian and 85th Anniversary of Algimantas Raudonikis
Published: Nov 08 2019, 12:51
Author: ANM Media
Advertisement
On November 6, the Embassy of the Republic of Armenia to Lithuania, with the support of the Armenian Ministry of Education, Science, Culture and Sport, organized a concert at the Museum of Applied Art and Design in Vilnius, dedicated to the 90th anniversary of Armenian composer Avet Terterian and the 85th anniversary of Lithuanian composer Algimantas Raudonikis, PR department of the Embassy reports.

The event featured works by Avet Terterian, Komitas, Algimantas Raudonikis, Eduard Abrahamyan and other Armenian and Lithuanian composers, performed by Varsenik Avanyan (mezzo-soprano) and Steponas Zonys (baritone), accompanied by Narine Stepanyan (piano).

The event was attended by high-ranking officials of the Lithuanian legislative and executive branches as well as other state agencies, ambassadors accredited in Vilnius, members of the diplomatic corps, public and political figures and members of the Armenian community.

In his opening remarks, Ambassador Tigran Mkrtchyan noted that this concert opens a series of events in the Baltic states dedicated to the 90th anniversary of the great Armenian composer Avet Terterian, initiated by the Armenian Embassy. The ambassador added that pieces of Lithuanian composers will be performed at this joint concert of Armenian and Lithuanian musicians, which is also dedicated to the 85th anniversary of the Lithuanian composer Algimantas Raudonikis.

Introducing Avet Terterian's biography and his musical career, Ambassador Mkrtchyan noted that Terterian is justly considered one of the best Armenian composers, having composed in various genres, including chamber, symphonic and opera music, created 8 magnificent symphonies, leaving an indelible mark on the Armenian and world music history. The Ambassador attached importance to the connection of Terterian's avant-garde music with the Armenian spiritual traditions.

Speaking about the similarities between the music of the two composers, the Ambassador noted that even though Avet Terterian and Algimantas Raudonikis had composed in the Soviet era, they were very much influenced by their traditional music and presented it in world music manner.



Advertisement