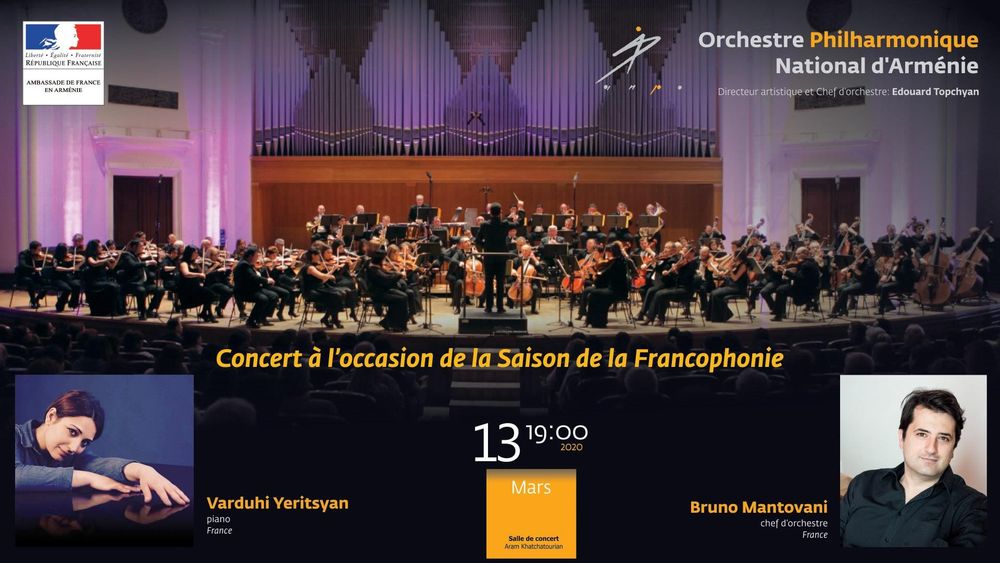 The Armenian Premiere of "Ma mère l'Oye" Suite by M. Ravel to take place within the Francophonie
Published: Mar 12 2020, 19:37
Author: ANM Media
Advertisement
A concert dedicated to the International Day of Francophonie with the participation of the Armenian National Philharmonic Orchestra will take place on March 13 at Aram Khachaturian Concert Hall.

A pianist Varduhi Yeritsyan will appear under the baton of Bruno Mantovani. The Program includes M. Ravel's "Ma mère l'Oye" Suite (Armenian premiere) and Piano Concerto in G-major, Concerto for piano and orchestra C. Debussy's "La Mer". The concert will also feature piano concerto "In the Wake of Ea" by the winner of Queen Elizabeth Competition Michel Petrossian.

Bruno Mantovani was born on October 8, 1974. After receiving five first prizes from the Paris Conservatory (analysis, aesthetics, orchestration, composition, music history) and attending the computer music Cursus at Ircam, he began an international career. His works have been performed at the Concertgebouw in Amsterdam, the Philharmonie in Cologne, the KKL in Lucerne, La Scala in Milan, Carnegie Hall and Lincoln Centre in New York, the Cité de la musique and the Salle Pleyel in Paris. Starting in 2010 he began an extended collaboration with the Paris Opera (the ballet Siddharta, and an opera based on the life of Russian poet Anna Akhmatova in 2011, a violin concerto for Renaud Capuçon and Philippe Jordan in 2012, a trio in 2014). Inspired by the relationships linking music with other forms of artistic expression, he has collaborated with novelists Hubert Nyssen and Eric Reinhardt, librettists Christophe Ghristi and François Regnault, chef Ferran Adrià, choreographers Jean-Christophe Maillot and Angelin Preljocaj, and filmmaker Pierre Coulibeuf. His work is often a reflection on the history of Western music (Bach, Gesualdo, Rameau, Schubert, Schumann) or popular forms (jazz, Eastern music).

Varduhi Yeritsyan is a Franco-Armenian classical pianist. Born in Yerevan in a family of musicians (her father and mother are pianists), she naturally studied this instrument in a specialized school, from which she graduated at 16 with the first prize. She then entered the Komitas State Conservatory of Yerevan where she studied in particular with Mikhaïl Voskressenski and Victor Merzhanov for there years. In 2002, she moved to France and continued her studies at the Conservatoire de Paris, in Brigitte Engerer's class. She has since played in many concerts, mainly in France, and in Europe.

Advertisement