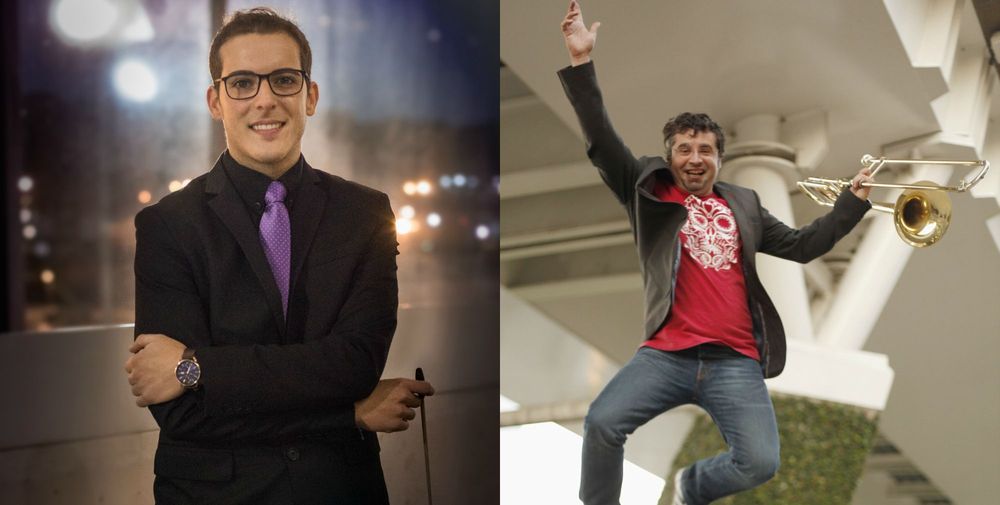 Santiago Diaz Aguirre and Juan Pardo Gil. "Armenia unites us"
Published: Feb 13 2020, 08:06
Author: ANM Media
The festival entitled "ArmBone" will take place in Yerevan for the first time. Founders of the festival are Santiago Diaz-Aguirre and Juan Pardo Gil - the trombone players from Spain. Both musicians are playing in Armenian National Philharmonic Orchestra. Santiago is not only a trombone player but also a conductor. It is the third season of Juan in ANPO and the second for Santiago.
ANM
met the artists, who shared with us about the Festival.
Juan:
In Spain, I lived very close to Santiago but we didn't know each other and I met him here. Now he is my brother. Not the trombone, not the music, but Armenia united us.
Santiago:
In Spain, I was a freelance trombone player and conductor. 2 years I played with Gran Canaria Philharmonic, but my main job was conducting.
2 years ago the same artists organized a low brass meeting project, which was very successful. Within the meeting, many students of Armenian music schools participated in master-classes and in the final concert. The teachers were Alexander Gorbunov, Zsolt Szabo, Hana Beloglavec and David Bruchez.
Juan:
This year we were talking about our plans and decided, that we should make one more step and organize a festival only for the trombone and invite international soloists to play and have master-class for Armenian students.
Santiago:
2 years ago when I joined the project and we had many students coming here, and this year we have the trombone festival and I can't believe. Stars aligned for this project.
The final result of the master-classes will be the concert of professional artists and students who participated in the lessons.


Santiago:
At the beginning of my career, when some trombone players from famous orchestras were coming to teach, I was going to their lessons with big excitement, but it is more impressive when you play with that teachers. We are going to play together with Armenian students, concertmasters, international musicians, make a big ensemble.
Juan:
It will be a big party. International trombone association posted about the festival. Armenia is a small country but something big happens here and I think it's nice.
On the first day of the festival, the National Chamber Orchestra of Armenia under the baton of Santiago Diaz Aguirre will present works by E. Grieg, A. Arensky, G. P. Telemann, G. Handel. Soloists for this concert are George Krimperis (Greece), Tomer Maschkowski (Israel/Netherlands) and Juan Pardo Gil (Spain). Some of the works included in the program are edited by the Greek trombone player. Next two days guest artists will have master-classes with Armenian students and give a final concert together. Professors Aristakes Martirosyan, Karen Sargsyan, and Vahram Davtyan, as well as concertmasters Hripsime Aghakaryan and Gohar Vardanyan, will join the master-class. The festival will culminate with the big concert with the Armenian National Philharmonic Orchestra and Juan Pardo Gil.
Juan:
We decided to play Alexander Arutiunian's Trombone concerto. Santiago is not just a good conductor, but he is also a good trombone player and he knows how the instrument works. It is nice to play with the colleague, who knows what you need. The concert is really demanding and hard to play. We celebrate Arutiunian's 100th anniversary and the 30th anniversary of the concerto. It's incredible.
Santiago:
Arutiunian's trumpet concerto is very famous but I didn't know about this concerto. We discussed the repertoire of concerts very long. My first concert took place was when I was only 9 with the band and it was Khachaturian's "Valencian widow". And I said: "Perfect". Armenian composition with Spanish conductor talking about a Valencian widow. Concerto by Armenian composer with a Spanish trombone player. In the second part of the concert the Spanish conductor, Spanish music will be performed by the Armenian orchestra. I remember I was a small boy and the trombone was bigger than me. it is a very emotional part of my life. I couldn't imagine, that my first experience to conduct the full symphony concert will be in Armenia.
Both Santiago and Juan are ready to perform Arutiunian's concerto not only in Armenia but also abroad. They are open to collaboration with everybody because they play music for everybody.
Santiago:
This is not our festival, this festival is for Armenia and for Armenian trombone players and music lovers. We don't know how long we will play here, and we just help you to do it. We push and you continue.
Juan:
I don't want to say, that you don't know how to do it. The problem is everywhere. It is hard to say "Let's do it". I want one of these guys (young trombone players) to continue our job. If I can, you also can.
The festival opens on February 13 and will culminate on February 16.
Armenian National Music
is the Info partner of the festival.
Interview by Sona Khachatryan