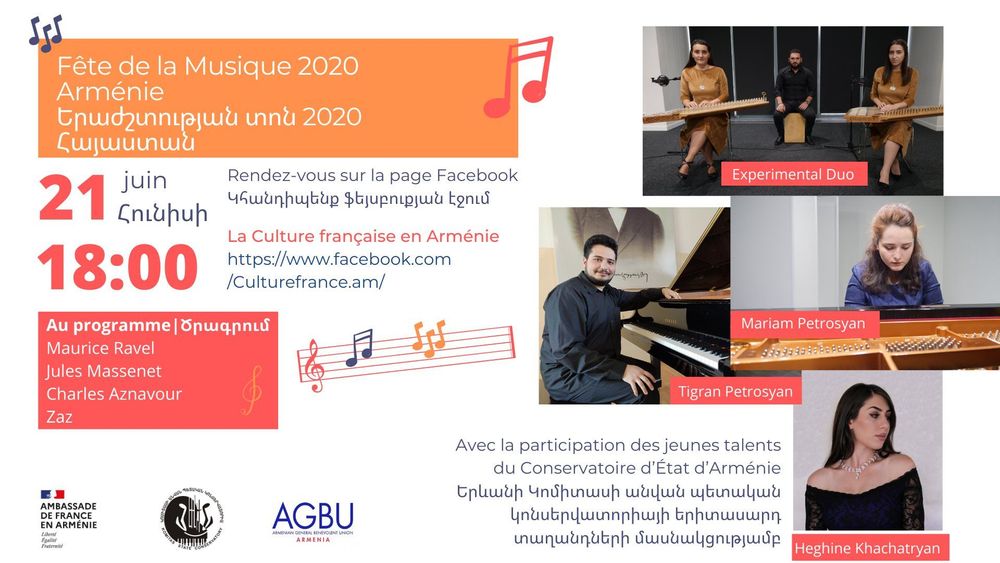 "Fête de la Musique" to be presented on online platforms
Published: Jun 20 2020, 19:34
Author: ANM Media
Advertisement
"Fête de la Musique" will be held on June 21 at 6 p.m. on the online platforms. Students of Yerevan Komitas State Conservatory Tigran and Mariam Petrosyans (piano), Heghine Khachatryan (soprano), and Experimental Duo will perform works by Maurice Ravel, Jules Massenet, Charles Aznavour, and Zaz within the event.
Founded in 1982, "Fête de la Musique" is an annual festival held around the world on the same day, on June 21. On the initiative of the French Embassy in Armenia, this holiday is also celebrated in Armenia for the 13th year in a row.
Due to the spread of COVID-19 pandemic, this year "Fête de la Musique" will be presented on online platforms. The concert will be broadcast on a number of online platforms, including the
Armenian National Music
Facebook page.
Advertisement