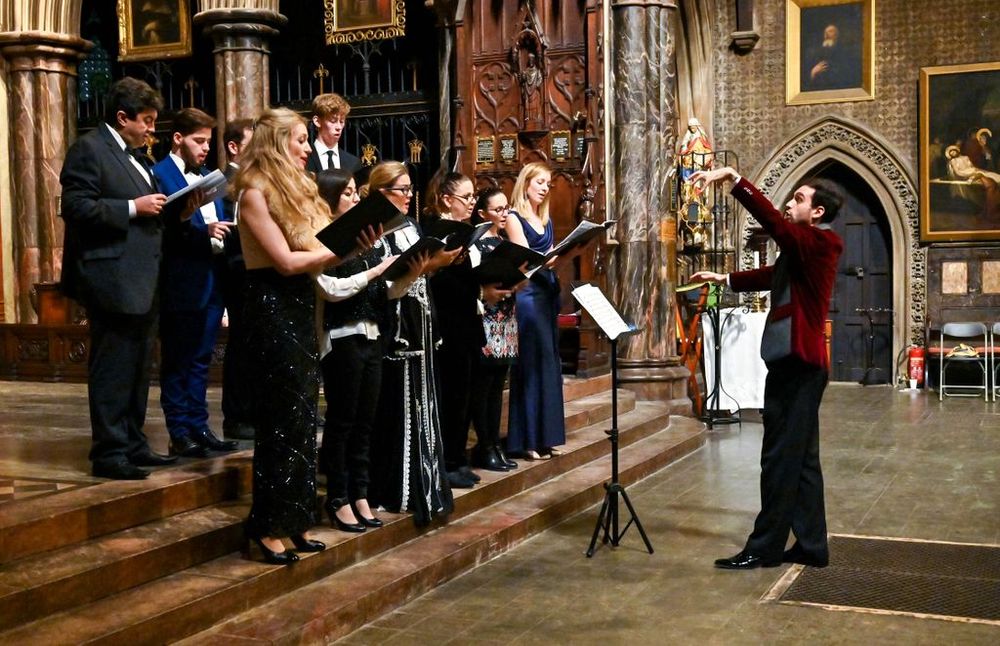 Concert dedicated to 150th anniversary held in London
Published: Nov 14 2019, 12:51
Author: ANM Media
Advertisement
Multinational Tribute to Komitas London-based Armenian Klingen Choir and Cultural Association presented a concert-exhibition dedicated to the 150th anniversary of great Armenian composer Komitas which took place on November 9, at St Cuthbert's church in London, "Asbarez" reports.

More than 300 people gathered under the arches of the magnificent St Cuthbert's church, united by high arts and wonderful music – simple and sophisticated in its modulations, cordial and incredible in its exceptional resonance, ethnic and at the same time as universal as the conceptions of love, kindness, nature, and beauty. Musicians and spectators from all over the world had congregated along with local Armenians to celebrate the 150th anniversary and pay their respect and tribute to Komitas: a magnificent event masterminded, organized and directed by Conductor Sipan Olah.

There were a number of greeting addresses, particularly by Baroness Caroline Cox, Mayor of Kensington Will Paskall, Deputy Minister of Science, Culture, Education, and Sport of the Republic of Armenia, Narine Khachaturyan, and high representative of the Anglican Clergy, Paul Bagot.

The audience enjoyed choir works of the master in the second part of the concert, some of which were performed by an ensemble of professional singers, and others by the Klingen choir under the baton of conductor Sipan Olah. The ensemble presented spiritual songs "Lord's prayer," "Sourb, sourb," and "Hayrapetakan anthem," followed by "Little girl," "Aravot lusaber," "Yar jan, ari," and "Garun a." The Klingen Choir started with "Andzrevn yekav," presented a few more jewels from Komitas' inexhaustible depository, and finished the concert by "Gutanerg – Song of the ploughman," with the participation of all the invited musicians.

Following a well-established tradition, Lebanese Armenian painter Leonie Pilart presented her exhibition of canvases, dedicated to Komitas. Designer Alice Martirossian joined the exhibition with her hand-made dolls wearing national Armenian costumes of different historical periods and geographical locations.

Photos by "Asbarez"
Advertisement