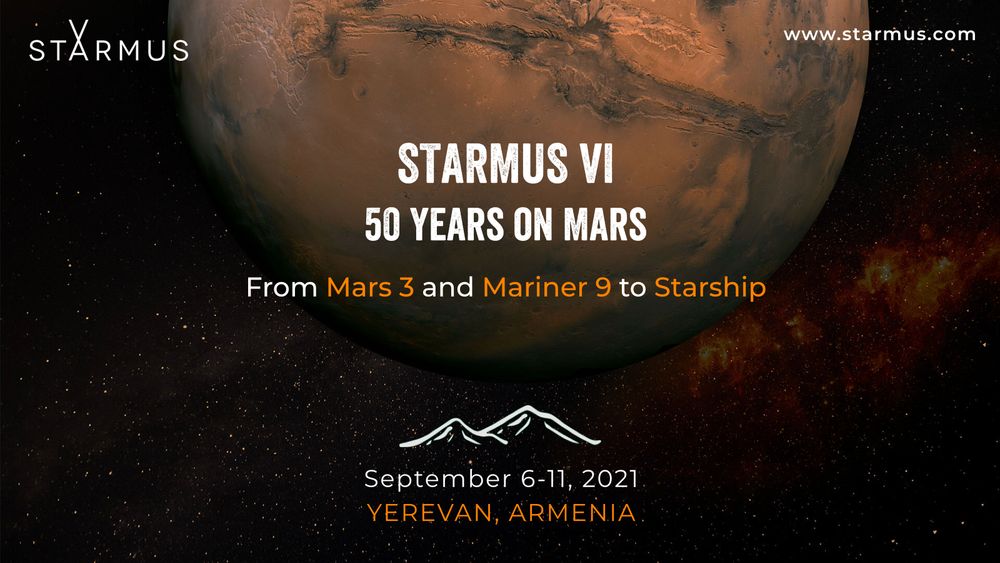 STARMUS VI, world-scale science and art festival to take place in Armenia
Published: Jul 22 2020, 18:17
Author: ANM Media
STARMUS, one of the world-scale science and art festivals will take place in September 2021 in Yerevan, Armenia, to celebrate science communication with world-class scientists, artists and astronauts.

STARMUS VI will be dedicated to Mars, from the very first Soviet MARS 3 and American MARINER 9 to the spectacular NASA missions and ambitious manned landing plans of Space X. It has been 50 years since MARS 3 performed the first soft landing on the Red Planet and sent back to the Earth the first data from its surface.

The festival will be held under the high patronage of the President of Armenia, Dr. Armen Sarkissian. The President has invited Starmus to Armenia during his invited speech in 2019 at the opening ceremony of Starmus V "A Giant Leap" in Zurich.

Since the very first Homo Sapiens looked up at a star-filled sky we have been awestruck by the vastness of the cosmos. Even today we remain humbled by the sheer immensity of space, especially as through our progress in physics and astronomy, we are now aware of the tremendous distances involved – even to our closest neighboring stars.

Created by Dr. Garik Israelian, an astrophysicist at the Institute of Astrophysics of the Canary Islands (IAC) and Dr. Brian May, astrophysicist and the lead guitarist of the iconic rock band Queen, the Starmus Festival is a combination of science, art and music that has featured presentations from Astronauts, Cosmonauts, Nobel Prize Winners and prominent figures from science, culture, the arts and music.

Stephen Hawking and Alexei Leonov, together with the rock star and astrophysicist Dr. Brian May, worked to create the Stephen Hawking Medal for Science Communication, awarded to individuals and teams who have made significant contributions to science communication. Previous Stephen Hawking Medal winners include Elon Musk, Jean-Michel Jarre, Neil deGrasse Tyson, Brian Eno, Hans Zimmer and The Particle Fever documentary. The Starmus Festivals join Nobel laureates, eminent researchers, astronauts, thinkers, men and women of science, culture, arts and music to share their knowledge and experiences in the common search for answers to the great questions of today.