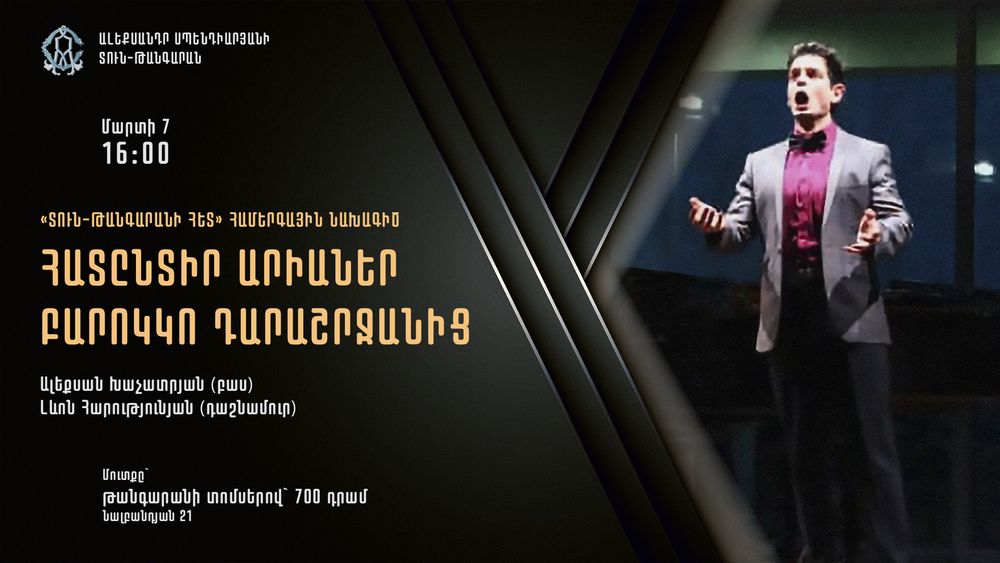 Selected arias from Baroque era
Published: Feb 29 2020, 17:33
Author: ANM Media
A concert entitled "Selected arias from Baroque era" will take place at the Alexander Spendiaryan House-museum on 7 March at 16:00 p. m. as a musical dedication towards the Women's Holidays.

Alexan Khachatryan (bass, 1st prize winner of "Renaissance" (Veratsnund) International Contest-Festival) will represent a notable concert program for Armenian resident attendees including vocal compositions by J. S. Bach, G. F. Handel, C. W. Gluck, A. Scarlatti, G. B. Pergolesi, A. Stradella and other composers of 17-18th centuries. The soloist will be accompanied by a master of ensemble art, Levon Harutyunyan (piano).

The concert will take place in the frame of the project "With the House-museum". Its purpose is to give a platform for self-expression to young musicians who support the museum as well.